---
Here is the step by step guide that will answer all your questions and
give you all the information you need to get started!
---
Ok, let's begin…
You'll need a Domain Name…
The first thing you'll need is a domain name. It's best if your domain name is your company name, your full name or something that easily describes what your site will do (in general, it's a good idea to purchase your first and last name if at all possible). It's a great way to channel traffic to your site. You can go to jimmycrowhosting.com to search for your domain and it's availability for purchase. You will have the option to purchase your URL for as many years as you like and when it is time to renew you will be contacted by jimmycrowhosting.com to renew your purchase.
You'll need hosting account…
You will also need to purchase web hosting. Purchasing space on a shared or dedicated server is recommended for anyone who needs consistent, reliable hosting so that your site is always accessible for your users. You can purchase your web hosting at jimmycrowhosting.com as well. It's a reliable hosting service that offers affordable packages. For WordPress® sites I always recommend Managed WordPress® Hosting. I wrote an earlier blog post describing the steps to purchasing it HERE. Take a moment to read though that post to make sure you are getting the right kind of hosting for your particular site.
The best way to explain the difference between your DOMAIN NAME and your WEB HOSTING is this. Your Web Hosting is where your site lives on the internet. It's Domain Name (or URL) is it's address. Without a Web Hosting plan your website has nowhere to live and without a Domain Name no one will be able to find it.
If you have any questions about purchasing either of these services, I'm always happy to walk you through the process. Just send me an EMAIL and we can get started today.
If you've purchased your domain name and web hosting from another service, that's no problem. Once you have your URL and web host taken care of I'll need you to forward me your registration emails and any other documentation you receive from your providers. I can then put up a welcome page and begin uploading content to your site ASAP.
---
The Process
When you contact me, I will typically respond the same day for an initial consultation. Once I know what you need, I draft a proposal which outlines the project, budget, & timeline. Next, we confer on your proposal and your can the pay your deposit (50% down). I can usually get started on your site within 5-7 business days. If I think it will take any longer to get started i will let you know at this time.
I will need you to provide any media (text, images, video etc.) you want on the site. You can transfer large files, photos & video to me by using free FTP sites like DropBox®. If you need any help setting up a DropBox® account, please just ask. The quicker you supply me with all your content, the sooner your site will go online.
Most clients prefer to maintain control over the text on their site, but professional copy writing is offered at an additional charge. I can also arrange professional photography or provide stock photography for a fee.
Once I get the go-ahead on your logo design and color scheme, I'll build the site and integrate all your content. Your site can be produced rather quickly as long as you are available for prompt approvals.
When your finished site is launched final payment is due.
---
Your look
I can come up with an original layout for your site or we can work from existing sites that inspire you. Sending me links is a great way to get started. If you have a particular color scheme, graphics or typeface you want to use, please just let me know.
You'll need to supply your copy, photos or video in these formats:
• Copy – This is all the text that will appear on the pages of your website. You can type
everything in a simple text, Microsoft Word, or any other word processing document.
(professional copywriting services available at an additional charge)
• Photo – All photos should be submitted in the highest possible resolution (300dpi is
best) in tiff, jpeg, psd, png, pdf or eps.
(professional photography services or stock photos available at an additional charge)
• Video – Video can be submitted in any format. The better the video quality the better
it will look on your site. If your video is already on the internet (YouTube, Vimeo, etc.)
I'll just need links to them.
How do you get me your copy, photos and video?
Transferring large photo and video files can be hard to do by email so I recommend you use DropBox®. Like I mentioned above if you have any problems setting up an account I'll be happy to walk you through it. It's easy, convenient and you get 2GB's of storage FREE!
---
Outlining your site
I will need some direction when making your site and the easiest way for you to explain what you are needing is with a site outline. Every site will have an index (HOME) page, but beyond that it can have as many, or as few, pages as you want. Please outline the pages you want to appear on your site like the example below.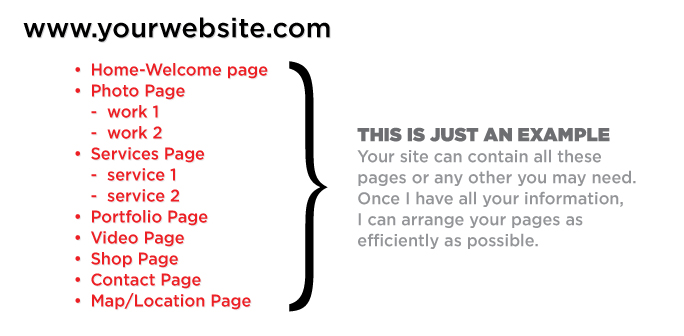 ---
Meta Tags & Keywords
Meta tags are a great way for webmasters to provide search engines with information about their sites. Meta tags can be used to provide information to all sorts of clients, and each system processes only the meta tags they understand and ignores the rest. Thetag provides metadata about the HTML document (your web page). Metadata will not be displayed on the page, but will be machine parsable. Meta elements are typically used to specify page description, keywords, author of the document, last modified, and other metadata. The metadata can be used by browsers (how to display content or reload page), search engines (keywords), or other web services. I will add your Meta tags to site but I will need your help in determining what meta tags and keywords will be the most efficient in helping people find your site. The more relevant your meta
tags are the easier it is for search engines like Google, Yahoo & Bing to find you.
You know your client base much better than I do so be sure to use keywords and phrases in the content you supply me for your site. I will need you to supply me with a list of search terms to insert into your page as meta tags as well. These terms can be anything that applies to your site. Locations, descriptions, names, addresses, or anything else you think is relevan and might help you rise to the top of search engine rankings. You need to be sure that each of the terms appears in your sites content. Terms used just as tags but never referenced in your site can only HURT you when it comes to Google® and other search engine rankings.
I can help you pick out these useful phrases and words and mark them up as keywords and meta tags for each page to improve your search results with Google®, Yahoo® and Bing™. If being at the top of the search list is important to you I can employ many other SEO measures to help you climb up the results pages. Check out the SEO Page for more details.
---
Your final checklist
Here is everything I will need to get started on your site.
Your Domain name and log in info from jimmycrow.com


(or any other domain name provider)

Your Web Host and log in info from jimmycrow.com


(or any other web hosting provider)

Your Color Scheme.
Your Outline of your site.
Sign up for your dropbox account (if needed)
Your Copy, Photos, Images, Video & any other media you have.
Your contact information (email, phone# etc.)
Your deadline to launch the site.
Your meta tag & keyword list.
Your deposit.
That is all I need to get started!
My goal is to make the process simple for you and give you a great website as quickly as possible. If you have any questions please don't hesitate to ask.