Re-post from the 

 blog
---
Bing SEO is probably not the first thing that comes to your mind when you think about search engine optimization. If you're like most people, you immediately think of Google and make sure you follow its best practices. Even though this search engine giant dominates the SEO playbook, there are other search engines out there that are worth exploring and optimizing for.
One of these search engines is Bing. Bing is Google's biggest competitor with 33.6 percent of the desktop search engine market share along with Yahoo. Keep in mind that Yahoo has been powered by Bing since 2010.
Pair that with the fact that Bing saw an increase in ad spend and ad impressions and suddenly it makes a lot of sense to incorporate Bing into your SEO strategy.
But, before you do that, you need to know what matters to Bing and how they rank sites. And that's what this article will explain. Let's dive in!
Bing SEO Advantages
There are a few reasons why you'd want to optimize your site for Bing.
It allows you to be one step ahead of the competition since most businesses and websites will focus on Google alone. By following Bing's SEO practices, your website will be visible by everyone who uses Bing and Yahoo — and 30% of Internet users is nothing to sneeze at.
According to research, Bing has an exclusive audience in a number of industries. That audience can only be reached with search engine optimization for Bing as well as by using Bing Ads.
Another reason why optimizing for Bing is a good idea is that traffic coming from Bing might have a lower bounce rate compared to Google. This certainly proves true in Matthew Woodard's case.
The last point to consider is the very nature of Google's algorithm. The search engine giant is notorious for pushing out SEO algorithm updates rather frequently and without too much warning. If you incorporate Bing into your strategy, then you'll have time to adapt to Google's changes because part of your traffic will still come from Bing.
Bing SEO Ranking Factors
Now that we've covered the advantages of Bing SEO, let's discuss the ranking factors that are important for this search engine.
Content

When it comes to content, Bing favors longer, unique, and relevant content similarly to Google. It also prefers content that is easy to navigate, provides a rich user experience that drives engagement and has a clearly established author. If you want to optimize your content for Bing, here are a few key points to keep in mind:
Use heading and paragraph tags appropriately as well as <strong> and <i> tags to add emphasis to your content. Avoid using more than one <h1> per page. By following this rule, Bing will have an easier time understanding the structure of your content.
Meta descriptions should be between 25 and 150 characters in length and play a significant role for Bing's rank.
Do use keywords in your content as well as keyword variations but don't stuff content with them unnecessarily.
Use ALT tags for images.
Even though Bing is capable of indexing Flash content, their guidelines advise against housing content inside Flash or JavaScript.
Keep your titles relevant and between 5-65 characters long.
Lastly, produce content frequently and ensure it's unique.
Links and Backlinks
Bing encourages you to interlink your content liberally and link to external, relevant sites. According to Bing's webmaster guidelines, backlinks are a sign of popularity and credibility of your content which is why it prefers organic links coming from established, relevant websites.
If a website linking to you is not only a well-established one but also uses an .edu, .org and .gov extension, those backlinks will be the ultimate sign of trust.
It's also worth mentioning that Bing prefers relevant anchor text when it comes to internal links, as well as external links and backlinks.
As with Google, you'll want to avoid abusive and black hat backlinking strategies such as link buying, link farms, and other means of link manipulation as they can lead to your site being removed from Bing's index.
Keywords and Meta Keywords
We've mentioned keywords a couple of times by now so it's time they get their own section. This is one area where Bing and Google differ quite a bit.
Unlike Google that can determine the relevance of your content even if you use broad matching keywords, Bing favors straightforward, exact keywords when it comes to ranking websites.
To optimize your content for Bing, use targeted keywords throughout your content as well as in your titles and anchor text for both internal and external links. Bing also prefers exact keywords in the URLs of your posts and pages and takes into consideration exact match domain names. As you can see from the screenshot below, the first result that shows up in the results page is a website that uses an exact match domain name.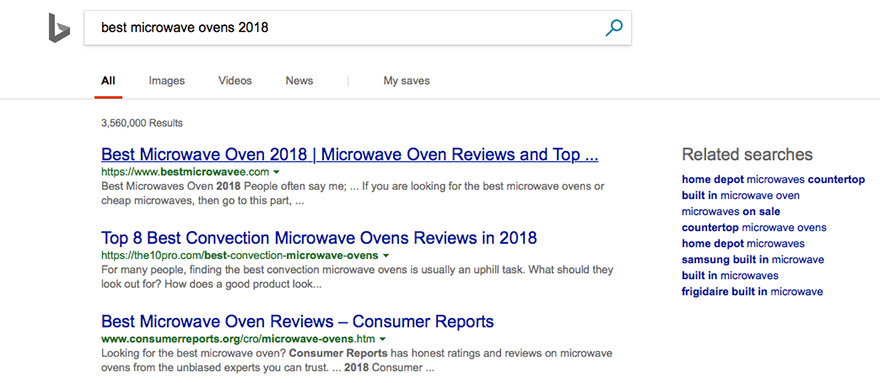 In case of Google, meta keywords play no role in the position of your site in their index. Bing, on the other hand, still relies on meta keywords not only to provide more context about the page in the SERPs but also in the overall rank of your site.
An example that proves meta keywords still matter for Bing comes from Levy Online, a digital agency, that saw a boost in their client's Bing rank after filling out meta descriptions and adding meta keywords.
Social Signals
Another point of difference between Google and Bing is the way they treat social signals. Unlike Google, Bing clearly states in its guidelines that social signals play an important role in website's rank. If you have a large following and your followers regularly share your content, Bing sees this as a positive signal and takes it into consideration to rank your website.
While adding social media to your SEO strategy adds to your workflow, it pays off to consider a social media management tool that allows you to monitor your brand, keywords, hashtags, and more. By actively listening and participating in conversations with your followers, you'll build brand loyalty and trust which will not only impact the way fans engage with your brand but also how you rank on Bing.
Multimedia Content
As you already know, Bing can understand flash content. It's safe to assume that they can then understand other forms of multimedia content such as images and videos. In fact, when it comes to visual content, Bing is somewhat of a pioneer in the arena with its object detection and visual search.
When it comes to multimedia content as a ranking signal, it's pretty clear that Flash shouldn't house your content and images should include appropriate ALT tags. Adding more images, videos, and other types of multimedia contributes to enriching user's experience mentioned earlier in this article so it has the potential to benefit your rank in Bing's index.
Technical Details
As far as technical aspects of Bing's index, Bing does take into consideration how fast your website and individual web pages load but they do mention it's important to find the balance between faster loading times and a satisfactory user experience.
Bing doesn't take HTTPS into consideration when ranking websites nor do they plan to according to the public statement made at Search Marketing Expo.
If you want Bing to understand better how to interact with your website, then maintaining an up to date robots.txt file at the root of your domain is necessary.
Another crucial file is your sitemap and it's worth mentioning that Bing won't crawl your website anywhere near as often as Google so it's important to re-submit your sitemap when you make major changes to your site.
Similar to Google, Bing prefers to use of 301 redirects when you move content permanently and a 302 redirect when the move is temporary.
Lastly, don't forget to use the rel=canonical tag to indicate original content when you have multiple URLs with the same content.
Resources to Learn More About Bing SEO
Now that we've covered Bing's ranking factors, let's take a look at the best resources that will help you create a rock-solid SEO strategy for Bing and provide you with even more details about Bing's index and ranking process.
Bing Webmaster Guidelines
The first place you should start is Bing's Webmaster Guidelines which have all the information you need to know. The guidelines are pretty straightforward and much shorter than Google's guidelines so you'll go through them rather quickly.
Bing Webmaster Tools
Just like Google, Bing has its own set of Webmaster Tools that are as comprehensive as their major competitor. What's even better, they include an inbound link explorer so you can see who is linking to you, which keywords you rank for, and so much more.
Bing SEO Analyzer
The Bing Website Analyzer will help you discover if your website is following Bing's SEO practices and give you a list of suggestions to improve your rank.
Bing Webmaster Blog and Search Blog
Bing has a webmaster blog which is updated on a regular basis and publishes content revolving around updates and new functionality introduced in Bing. For
Insights into how Internet search works tried methods, and biggest payoffs in SEO, you'll want to visit their Search Blog.
---