Re-post from the 

 blog
---
After Facebook, Pinterest is the second largest source of social media referral traffic. It is also the third most popular social network among U.S. adults, after Facebook and Instagram. If you're not using Pinterest as part of your blog's traffic strategy, you are missing out on a potentially gigantic source of traffic.
Even if you are already on Pinterest, are you using it to its full potential? Pinterest group boards are a great way to draw relevant visitors to your blog posts from this social platform, and they allow you to reach an audience beyond your existing followers. Often, the potential reach of these pins is many times larger than the reach of pins shared to your own individual boards.
This article will explain how Pinterest group boards work, how to find and join them, how to get the most out of them, and how to start your own group board. If you'd like more traffic to your website, read on.
How Pinterest Group Boards Work
If you've ever used Pinterest, you know that the website operates like a giant mood board. There is a main stream of popular pins, pins from the people you are following, "suggested" pins, and ads. You can "re-pin" any of these pins, or share, onto your own themed Pinterest boards.
Group boards work similarly to regular boards, except with group boards, there are multiple people curating content to the same board. Here's one example, a group board with 136 collaborators and over a million followers, by Better Homes & Gardens: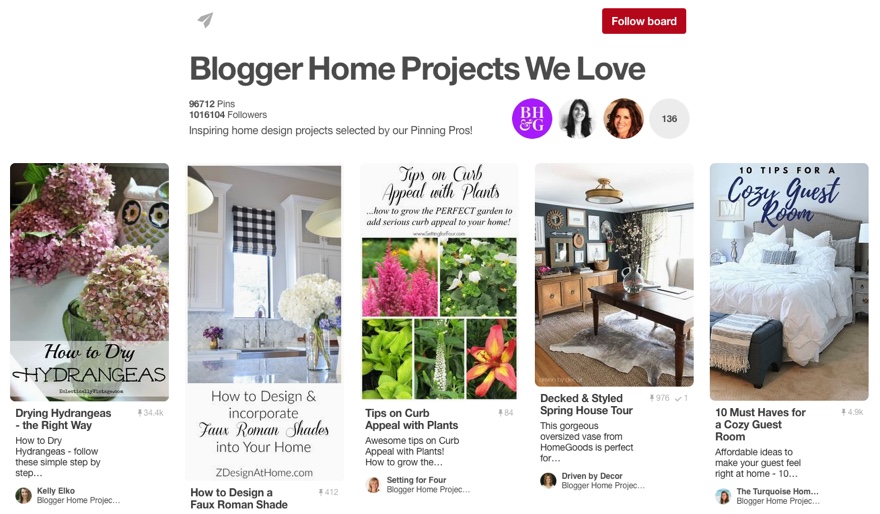 That's right, over a million followers! Due to the increased reach, thanks to the powerful collaborators, group boards often have a following much larger than the individual collaborators' accounts. This massive following gives even brand new pins a considerable boost, and that single pin can turn into thousands of pins as it is shared across the followers' boards.
Therein lies the power of Pinterest group boards. They make an incredible promotional tool if they are engaging and highly relevant to your content. Keep reading to learn how to find and join group boards.
How to Find Pinterest Group Boards
To the uninitiated, Pinterest group boards can seem pretty hard to find! Searching Pinterest by board doesn't always pull up useful results, and scrolling through the board lists of the biggest "Pinfluencers" in your niche can be extremely tedious.
Instead, using a group board directory like this one or the tool PinGroupie is recommended.
By using these resources you should quickly be able to find a few relevant group boards. PinGroupie is especially useful as it allows you to search, sort, and filter the results. However, this tool is not updated very often.
If you were searching for a group board about blogging, here are some of the top results on PinGroupie:

What Makes a Good Pinterest Group Board
When looking for a good board to join, consider several factors. First of all, prioritize relevance to your website above all else – if it isn't relevant to your target audience, you're not going to get the kind of traffic that sticks around.
Next, look at the number of followers, which you'd ideally want to be larger than your own follower count. Smaller boards can still help your blog reach new audiences, though, if they are super relevant.
Next, check the board out and see if the pins generally have a good number of re-pins or if the activity is pretty low. Pinterest doesn't share the re-pins of individual pins anymore; instead, the number is a total of all the copies of that pin on Pinterest, which can make it a little hard to judge.
Finally, look at the number of collaborators on the board. If the number is pretty high, you know that the board is probably taking new contributors regularly. If the number is small, it's not that likely that you'd be able to join, but it's always worth a shot.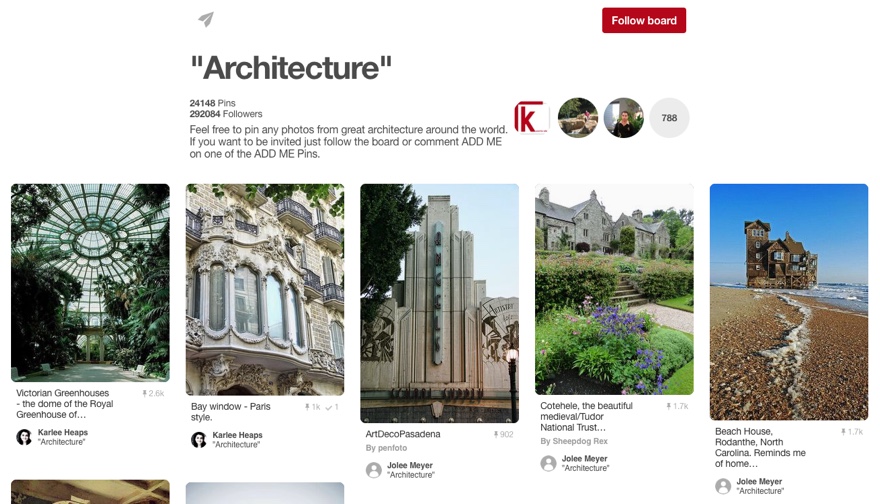 Let's say you have a blog where you often wrote about architecture or you had a website that promotes architectural products and services. This board looks like a great option to join. The topic is clearly architecture, and all the recent pins are on-theme. The board has nearly 300,000 followers, which is great no matter what your personal follower count is. All the recent pins have around a thousand re-pins, and some in the first few rows of pins have re-pins in the multiple thousands. Finally, the board has over 700 collaborators and according to the description is actively accepting new pinners, so your chances of being accepted are high.
How to Join Pinterest Group Boards
Sometimes, like in the example above, pinners will explain right in the description how to join their group board. In other cases, it won't be quite so simple.
You can always identify who the "owner" of a group board is by looking at the first account listed as a collaborator. Generally, they will ask that you follow all of their boards (or at least the group board you are interested in pinning on), then contact them in some way and provide your email address. This may be through a comment on a recent pin (make sure that pin belongs to the owner of the board), a contact form linked in the description, or through another board. Every group is different, so just follow their preferences as best you can.
If no application process or method of joining is listed, the board may be closed to new members. However, you can still reach out to the board owner through their email address or website and ask – it doesn't hurt! If you contact them this way, I recommend you keep things as brief as possible, quickly getting across the fact that you want to join that specific board, why you would make a good curator and the essential information they need to add you, like your email address.
Tips for Expanding Your Reach on Pinterest Group Boards
There is no secret to succeeding with Pinterest group boards in particular – a lot of these best practices apply to pinners on their own boards, as well. However, this is a good checklist to run through in either case.
1. Enable Rich Pins
If you haven't yet verified your website with Pinterest and enabled Rich Pins, now is the time to do so! Following these steps adds some additional information to your pins, like the article title. It also makes your pins take up more real estate on the Pinterest stream, increasing the chances that your pins will receive engagement.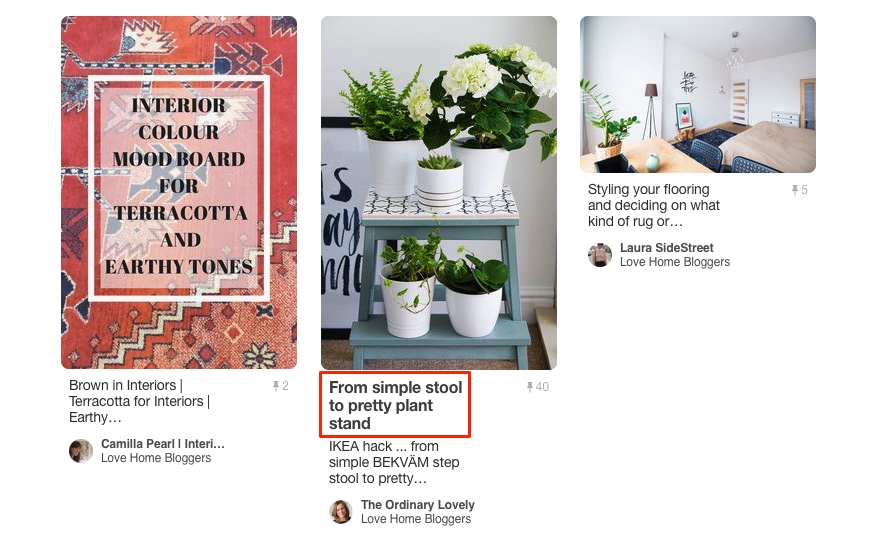 In the image above, you can see how a rich pin stands out.
2. Create "Pinnable" Graphics for Your Blog Posts
This is such a no-brainer, but it is an absolutely essential step if you want your content to succeed in Pinterest group boards.
Create a different "pin-worthy" image for each blog post you publish. These should use beautiful photos (sometimes more than one, collaged) and be pretty straightforward – often, including a text overlay with the name of the blog post is a great step.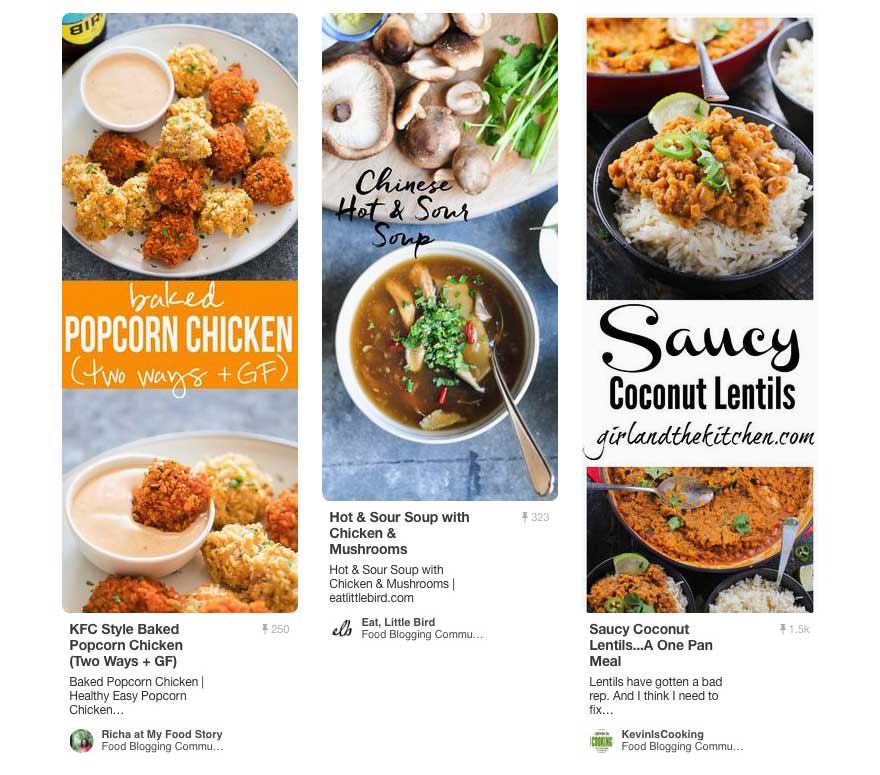 When it comes to inspiration, food bloggers are miles ahead in terms of pinnable imagery. If you want to learn how to use Pinterest to its full potential, follow some of the biggest food bloggers.
3. Pin More Than Just Your Own Content
Yes, you joined the group board in order to promote your blog posts. But it is important to remember your role as a "curator" – you are supposed to be sharing the best content, whether it belongs to you or someone else.
4. Use a Tool to Schedule Pins
In order to be successful with Pinterest, you must be consistent about your pinning and spread out your pins across the times that your followers are online. You could try and be online and manually pinning whenever your audience is. Or, you can use a Pinterest scheduling tool instead.
Free scheduling tools are hard to come by, so you'll probably need to invest in a paid option. However, over time you will find that the resulting growth to your Pinterest account is worth it.
Here are a few Pinterest scheduling tools to get you started: Tailwind, Viralwoot, Viraltag, Buffer, and BoardBooster.
How to Start Your Own Pinterest Group Board
At some point, you may decide to start your own Pinterest group board, in order to take advantage of the benefits group boards offer their owners and have a better handle on the exact theme of the board.
Begin the board as you would any board on Pinterest, by pinning relevant content. Provide the board rules and an explanation of how to join in the description.
Then, invite relevant pinners you trust to curate content on your new board. A great way to find collaborators is by posting in a Pinterest thread on a Facebook blogging group. Over time, your board will grow and people will start asking to join.
---